Welcome!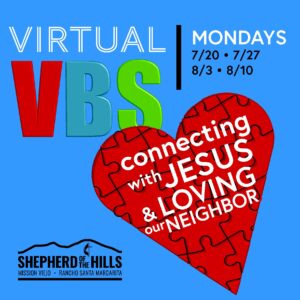 You're arrived at Week 1 of our Virtual VBS–glad you could make it!
If you're looking for Week 2, it's located here.
If you're looking for Week 3, it's located here.

We've put together a fun assortment of stories, music, do-it-yourself-snacks, and crafts to make your summer a little more fulfilling.
We suggest going through our videos in the following order, beginning with the introduction below…
Introduction with Miss Mindi & Miss Laura
Bible Story with Pastor Karl & Pastor Jon
Music with Miss Kristen
Every Move I Make
I Have Decided
I Am Yours
Praise Ye The Lord

Snack with Miss Jenny
Craft with Miss Kayla
That's it for this week!
See you back here next Monday, July 27 for Week 2.