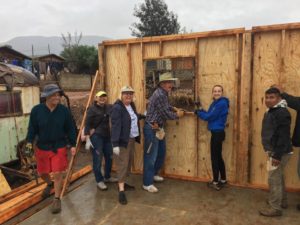 The Mexico Mission trip is every year in January. (with the sign-up deadline in the Fall). Each year we take over 50 people to work on construction projects and provide ministries to local children in the Ensenada area. Working with YUGO (Youth Unlimited Gospel Outreach), we construct 2 finished houses in only three days.
The Mexico Mission offers the choice of either home construction or providing ministries to the local children through a VBS program. Any high school youth or adult can participate in either the housebuilding or children's ministry. Families who wish to attend with children 8th grade or under are welcome, but children are under a parent's supervision at all times.
A video showing highlights of the 2017 Mexico Mission is here.
See here for dates and times of the 2018 Mexico Mission.