Children's Ministries at Shepherd
Preschool
Shepherd of the Hills has a high-quality developmental early childhood program providing a safe and nurturing environment while promoting the physical, social, emotional, and intellectual development of young children.  It is a half-day morning program for ages 2.5  to 6 years of age, available at both the Mission Viejo and Rancho Santa Margarita campuses.
Mission Viejo 949.837-2993
Rancho Santa Margarita 949.709.5219
NAEYC Accredited
Experienced and highly trained staff
Serving the community for over 40 years!
If you'd like a tour feel free to call and make an appointment.
Please visit our full website here.
Sunday School
Come join us every Sunday for Sunday School where we learn all about Jesus' love. Our programs are designed to be fun and educational, and we offer Bible lessons and craft/activities taught by a team of dedicated teachers. Sunday School is available for children ages 3 (potty trained) through 5th grade at both locations:
Mission Viejo: 9:00 am & 11:00 am
Rancho Santa Margarita: 9:30 am & 11:00 am
To register your child for Sunday School, please complete the information here.
Nursery & Childcare
On Sunday mornings at both church sites, we have a welcoming and friendly nursery room for all our little ones ages newborn through 3 years old. Our nursery is staffed with paid and background checked childcare workers who lovingly look after your littlest children.
If you need childcare during the week for a church event please download a Childcare Request Form here and return to the office, or contact Amy Strawn, our Childcare Coordinator at astrawn@sothumc.org.
Vacation Bible School
We're having a "Virtual VBS" this Sunday, with new videos released every Monday from July 20 to August 10. It's free! See here for more information.
Music Camp
The annual Music Camp is held each summer at the Rancho Santa Margarita site, with auditions, rehearsals and performances taking place over a two week period.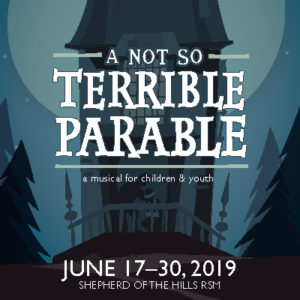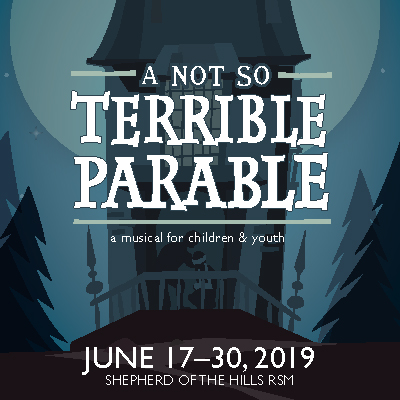 The 2019 Music Camp performance was "A Not So Terrible Parable," and took place June 17-30.
Music Camp is open to kids and youth who have completed kindergarten through 12th grade. Friends and neighbors are welcome to participate.
See here for more information.
Contact Kim Nason at knason@sothumc.org for more information.
Positive Parenting Class
Shepherd of the Hills has a parenting class called Positive Parenting, taught by the Juda Carter and Esther Chun. See here for more information and to sign up for the next class.
Joyful Noise Children and Youth Choir
The Joyful Noise Children and Choir practices on Sundays from 10:15- 10:45 am in the MV Youth Lounge. All ages 4 years through high school are welcome to join in on the fun!  Please contact Schehera McKasson (sfmckasson@gmail.com) or Alicia Riding (alicia.bursonriding@cox.net) for information.
Lazy W Camp
The Lazy W Ranch is located in the beautiful Cleveland National Forest, east of San Juan Capistrano, and offers week-long summer camps for elementary, junior high, and senior high level.
See here for more information and registration.