Our current worship series is "Jesus Loves Me This I Know"
 Join us for Walking With Jesus, our sermon series for Lent 2019, at Shepherd of the Hills.
---
Listen to recent sermons from either campus here.
---
Selected worship series from the past…
"Life Questions"
The beginning of the new year is a great time to reflect on the important questions of life. Of course, the important questions are always "God questions." When we ask ourselves questions in life, all too often they are safe, comfortable questions. We already know the answer we want or expect before we ask. In the Bible, God asks a lot of questions. But, God's questions are dangerous, life changing questions. 
"The Joyous Mystery"
Our theme for Advent was The Joyous Mystery. We aren't good with mystery as our world today is filled with instant answers rather than patient waiting. But each Christmas season should be a mystery. It should be a mystery waiting to unfold of how God will be present in your life this year. Where is the story of Christmas calling you on a secret mission? Where is the coming birth of Jesus calling you to ponder, as young Mary did, the wonder that is Immanuel which means God is with us.
"The Revelation of Hope"
Hope!  This is the code for Revelation.  This is the word that is at the foundation of all we have been, are, and will be as Christians.  Hope is the foundation of that the saving work of Jesus Christ invites us to be part of and it's at the center of our current series on Revelation.
 "Surviving 2018 in One Peace"
Surviving 2018 in One Peace is the name of our current worship series. It's a new year, and you have some grandiose plans for how you're going to make it different. But then life gets in the way, and our plans fall short. There are endless jobs to complete. Someone you care for gets ill. Relationships fall short of our expectations. And to top it off, it seems like the world is falling apart.
We're tired, we're hurting, and sometimes we're not even sure how we're going to survive a new year. We need something beyond our own will, our own strength and determination, just to make it through. We need hope, peace, joy. A sense that this message of love born on Christmas lasts the whole year long.
"Being Present"
Our series entitled Being Present focused on how we can be more present at Christmas to what God is doing in our lives.
"Advent Conspiracy"
Have you ever wished that Christmas could be a little less chaotic?  Have you ever wished that there were fewer items on your "To Do" list starting 
December 1st
?  Have you ever wondered what it might be like to have a simple, less stressful Christmas that wasn't based upon all of the commercial hype that has changed a religious holiday into a consumer nightmare?
If you answered yes to any of those, we want to invite you to join us in the Advent Conspiracy. This series is based on the real experiment one church did over 10 years ago to see if they could have a less chaotic Christmas.  During these several weeks we're talking about what Christmas might look like if we could Worship Fully, Spend Less, Give More, and Love All.  You'll be challenged to look at where your heart is focused during this season, and how we might aim it more towards Jesus and less towards the consumer frenzy Christmas has become.
"Throwing Stones"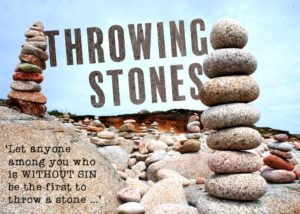 There is an old saying, "People are smart, but crowds are dumb."
In a mob, individuals can escape accountability for their behavior by disappearing into the mob. Countless acts of violence and cruelty have been perpetrated by people that, if forced to act alone, would have never happened. People are smart, but crowds are dumb.
Jesus knew this, because…well…he's Jesus. So when a mob wanted to stone a woman "caught in the very act of committing adultery" (which kind of begs the question, where's the man? Was he not also caught in the very act of adultery) Jesus says, "Let the one among you who is without sin cast the first stone," he puts a name and a face on everyone in the crowd. He asks each individual to acknowledge responsibility for participation in the act. Suddenly and dramatically the entire scene is changed. Jesus' opponents were now under pressure, and each of them had to make a decision. And, as you might expect, they all left with nary a stone thrown.
"Hey Mo"
"Hey Mo!" is a series looking at the life of Moses from the Old Testament book of Exodus.  For fun, we've called it Hey Mo! in an homage to the Three Stooges.  For 5 weeks, we're walking through the most famous story of the Hebrew Scriptures.  We'll find out who Moses was and how his story can help us learn what it means to follow God.  We started the series by learning about the birth of Moses, the very first Nile Cruise in history, and what it meant to become part of God's story even when we think we could never be part of the story.
 "Flying Coach"
Sitting down, Jesus called the Twelve and said, "Anyone who wants to be first must be the very last, and the servant of all." ​ –Mark 9:35​
Have you ever received front row center seats to an event?  Have you ever sat behind home plate at a Major League baseball game or been on the 50 yard line at a football game?  Whether you splurged and bought the tickets or were given them as a gift, there is one universal truth: It's hard to go back!  It's hard to go the next game and sit in your regular "nosebleed" seats.  It's hard to go the show and sit in the back of the balcony.
Perhaps Jesus knew we needed reminding when he told his followers that "Anyone who wants to be first must be the very last."  We've started a new sermon series with a strangely titled Flying Coach.  Advertising and other voices in the world tell us to strive for first class.  They say that better is always best.  But what we know through scripture is that God is often best found in the simplest things in life.  You don't have to fly First Class in order to encounter the holy.  In fact, reading the gospels tells us that if Jesus flew he would've have flown coach and probably even would've let the Flight Attendant have a break while he went up and down the aisle serving food.
Over the course of four Sundays, we are going to talk about finding God in the simple places of life.  We'll talk about feasting upon the simplicity of God in an ever complicated world.  And we'll learn through the scriptures that God meets us wherever we are to share his amazing love and grace.
 "5 Marks of a Methodist."
275 years ago, the founder of the Methodist movement, John Wesley, wrote a sermon entitled The Character of a Methodist.  In that sermon, he was trying to build the foundation for what a Methodist follower of Jesus Christ looked like.  When we come to Jesus there is initial excitement and joy.  Everything is new, and the overwhelming sense of grace fills our lives for the moment.  But being a deeply committed follower means that we have to move beyond the moment and into an intentional way of living that nourishes the soul and deepens our desire to be led by God's Spirit.
The Character of a Methodist proposes 5 marks that can build this foundation.  They are as follows:
A Methodist follower of Jesus LOVES GOD
A Methodist follower of Jesus REJOICES IN GOD
A Methodist follower of Jesus GIVES THANKS
A Methodist follower of Jesus PRAYS CONSTANTLY
A Methodist follower of Jesus LOVES OTHERS

Like the solid rock Jesus talked about in Matthew 7:24-25, these five marks can help build a solid footing for our walk with Jesus.  They can become the food that nourishes our spirit so that we can truly be led by God's Spirit.
During the season of Lent and journey towards Easter, is series of sermons based upon The Five Marks of a Methodist.  Each Sunday we're looking at one of these foundations and each week we're having a variety of Lenten Study opportunities for you to dig deeper into what this looks like in your own life.  There's a traditional Lenten dinner and study on each campus every Wednesday night, as well as morning classes, small groups, and other study groups that are journeying with us.